AP Top 25 Poll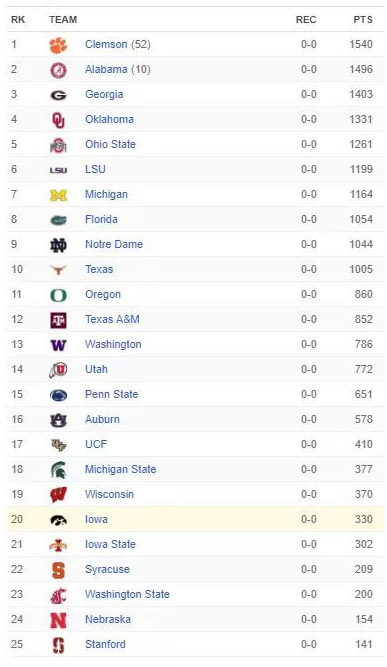 The 2019 college football season started Saturday, Aug. 24, with Florida defeating Miami. This weekend kicks off the first full weekend of the NCAA season, and in San José the Sportsmens Lodge will celebrate on Saturday with the Annual Spaghetti Feed.
Alabama and Clemson are the clear favorites to make the College Football Playoff this season. Of the 15 games played in College Football Playoff history, and both teams have played in 12 of them. This year, Clemson is packing a strong offense but has less experience on the defensive front. Alabama coach Nick Saban hasn't gone two consecutive years without a national title since the 2013-14 seasons.
According to the AP Poll, Georgia, Oklahoma and Ohio State could challenge the dominance of Clemson and Alabama, and make a run for the title. Georgia certainly has the talent this year and won a championship in each of the previous two seasons. Longer shots include Utah with an experienced offense, Michigan State and Texas A&M.
At number 8 in the pool, Florida inspires confidence. Indeed, for 40 years the pulse of college football could be taken in Florida. But, starting in 2013, the Florida Gators, Florida State Seminoles and Miami Hurricanes have been going through a bad stretch. Miami head coach Manny Diaz, however, is hopeful things will change quickly this season.
Don't miss the party on Saturday at the Sportsmens Lodge. The 3-hour happy hour begins at 4 pm, and the spaghetti dinner is served, starting at 6 pm. The cost of the dinner is $9, and the event celebrates 16 years of CRT.