Special Events



Our Hotel has 31 rooms priced between $65-$275 rack-rate per night, so you pay only $55 for standard regular rooms to $206 for our huge Penthouse Suite with these discounts.
25% off each Deluxe and Suite Room 15% off each Standard Room!
Stay with Us
June 16th through August 26th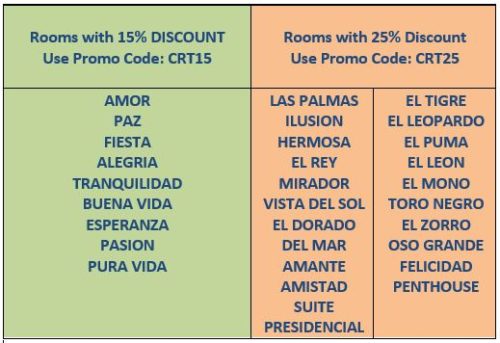 CRT VIP Members receive 25% off Deluxe Rooms and Suites (rate greater than $99), and 15% off for Standard Rooms! Please book your stay for two or more nights, and use the promo code CRT15 or CRT25 for reservations online.
All new and existing reservations for CRT VIP Members from June 16th until August 26th 2019, with a minimum stay of two consecutive nights will receive this seasonal CRT VIP discount, and only when booked directly through www.sportsmenscr.com. Offer is subject to limited availability, and advance reservations are encouraged. May not be combined with any other promotion or discount offer.