Effective January 26th, the U.S. Center for Disease Control is requiring that all persons traveling to the United States receive a negative test result for COVID-19. While no COVID-19 test is required for travel to Costa Rica, all persons, including U.S. citizens will be required to present a negative viral test result, prior to boarding their return flight to the United States.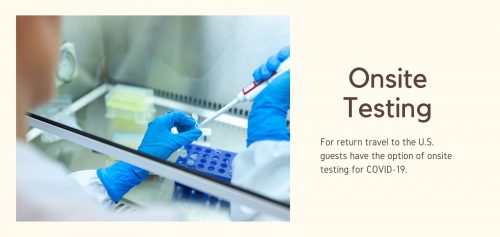 Testing Procedures
Sportsmens Lodge has arranged with a private lab for guests to receive a Covid-19 viral test at the hotel. The cost of the test is $75 + 4% tax, payable in person with cash or a credit card. The lab will provide results by email within 24 hours of the test.
CDC rules require air passengers to get a viral test within the 3 days before their flight to the U.S. departs, and provide their negative test result to their airline.
The Sportsmens Lodge is providing a space for testing, which has the necessary conditions, cleanliness, and privacy. Testing is daily and starts at 10 am.
Guests must request their test by completing a form on the hotel website and requesting a specific date. The front desk will schedule the test and provide the guest with an exact time.
Please keep in mind that restrictions and travel requirements are subject to change. The Sportsmens Lodge is committed to providing a safe experience for all our customers and employees.
Please contact the hotel by email or whatsapp if you have any questions.
Request for COVID-19 Test Appointment