Special Events
Zapote festival and bulls chase
Horse parade
Drumming Bands and Carnival
Festival of Lights
High Season for fishing Marlin and Sailfish
Costa Rican Tennis Open



30% CRT VIP Discount on Cash Checkouts for Suites and Deluxe Rooms and 20% for Cash Checkouts on Standard Rooms
Stay with Us
December 15th through January 6th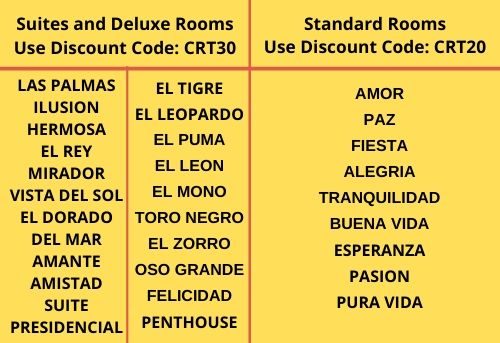 A Minimum stay of 3 nights is required. Make your reservation on our hotel website or by contacting us directly, and pay cash at time of checkout.
The weather in Costa Rica is incredible during these dates so see you for Christmas Eve & Day plus New Years Eve and Day!
Do the math you can stay in a SL room for as little as $45 plus free breakfast buffet!
You must present your valid CRT VIP card at check-in to receive your discount. Each person needs to be a member "on their own" to receive this OR any other CRT VIP discount. Existing reservations will be honored with the discount special. Offer is not available for guests who book through a third party website or travel agent. You must pay cash at time of checkout, in order to receive the full discount.