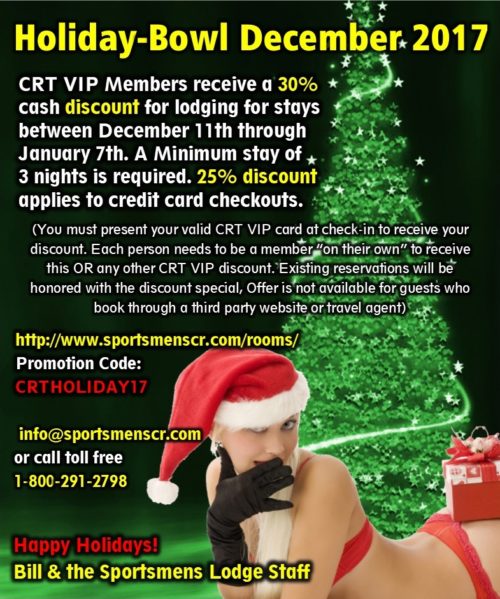 30% Discount for Cash Checkouts
25% Discount for Credit Card Checkouts
Happy Holidays
from Bill and the Sportsmens Lodge Staff
Stay with us for the Holiday
December 11th through January 7th
Use Promo Code: CRTHOLIDAY17
CRT VIP Members receive a 30% cash discount for lodging and 25% credit card checkouts for stays between December 11th through January 7th.
The Weather in Costa Rica is incredible during these dates so see you for Christmas Eve & Day plus New Years Eve and Day! Do the math you can stay in a SL room for as little as $45 + tax.
Holiday Events
Festival of Lights in downwtown San Jose Dec. 16th
Zapote Festival Dec 25th – Jan 7th (Mega Bars & Bull Fights)
Horse parade (Tope) in downwtown San Jose Dec. 26th
Beginning of Sportsfishing season (Marlin and Sailfish)
Use Promo Code: CRTHOLIDAY17
Please do not hesitate to contact us or call 800-291-2798, if you have any questions or prefer to book by phone.
Minimum stay of (3) Nights is required, and guests must present valid, individual CRT VIP card at check-in. Each person needs to be a member "on their own" to receive this or any other CRT VIP discount. Existing reservations will be honored with the discount special. Offer is not available for guests who book through a third party website or travel agent. Offer may not be combined with other discounts or offers. Guests must pay their final bill in cash at time of check-out to receive the 30 percent discount. Payments with credit card receive a 25 percent discount. Tax of 13% applies.